Integral to the Net Impact member experience is engagement with impact companies in Denver through student-led consulting projects. ​
Consulting Projects will begin Spring 2019.
Consulting Projects
1. Duration:
Projects will last for 15 weeks, spanning the winter and spring quarters and start the first week of winter quarter. This allows for deeper student and host partner engagement.
2. Scoping:
All teams will submit a project scope, in collaboration with company partner, within the first 2 weeks of project initiation to be reviewed by leadership team and faculty adviser. The purpose is to clarify expectations for both student team and company contact.
​
3. Talent pool:
We will be reaching out to other graduate colleges to recruit a diverse skill set for all teams. Examples are Ritchie Engineering, Korbel School of International Studies, & Strum Law.
To Apply:
Please send cover letter and resume and State your preferred project(s) to:
NetImpactDU@gmail.com
.
​
Past Projects - Spring 2018
National Parker Service - Business
Strategy
Consulting Project:
The great outdoors are extremely important to most American's, but the National Park Service is experiencing decreases in the resources they need to maintain the beauty of the lands they are under their care. In partnership with the Bruce Hutton Family Fund, the National Park Service, and relevant non-profit organizations, selected students will work on applying business, engineering, and environmental solutions to some of our parks most pressing needs.
​
The Project: This will be a 15 week project running from Winter 18 thru Spring 18 with the potential to continue in to the summer.
---
The GrowHous - Impact Metrics Strategy &

Implementation:
​

The GrowHaus is a non-profit urban green house in northern Denver. They focus on food production, distribution, and education specifically in food insecure neighborhoods in Denver. The organization is seeking a team of students to help them implement data gathering and analysis solutions to better understand the impact each pillar of the organization has financially, environmentally, and within the communities they serve.

The Project:

This will be a 15 week project running from Winter 18 thru Spring 18

​
Juniper Unmanned - Internal

Company

Culture

& Branding Development


​

Juniper Unmanned is a team of experienced aviation, technical and business professionals dedicated to implementing safe, effective and compliant unmanned aircraft systems (UAS) programs for enterprise clients. As a rapidly growing start-up, they face the challenge of developing a healthy company culture that supports people, the planet, and their profits. The company is seeking a team of students to develop a human resources and branding plan to help them grow mindfully. ​

The Project:

This will be a 15 week project running from Winter 18 thru Spring 18

​
Powered by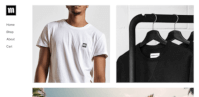 Create your own unique website with customizable templates.